MT003 Series
Bore size 3mm, OD 17mm, 2~8 wires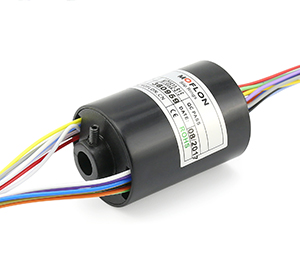 MT003 series are standard, off-the-shelf products, Color-coded lead wires are used on both the stator and rotor for simplified electrical connections.It can provides a 3mm through-bore for routing of hydraulic or pneumatic lines or hydraulic or pneumatic rotating shaft installation, and a compact 17mm outside diameter, features long life, fiber brush contact technology for ultimate performance in many challenging applications.
Specifications
Rings
6(see table as below)
Current
Signal/2A
Voltage
250 VDC/VAC
Max speed
250RPM
Through bore size
3mm
Overall diameter
17mm
Housing Material
Plastic
Torque
0.05N.m
Working life
depends on working speed
Contact material
Precious Metal:Gold-Gold
Electrical noise
<10 milliohms
Contact Resistance
<2mOhm
Dielectric strength
250VDC@50Hz
Lead Wire
UL Teflon® Awg22
Insulation resistance
1000MΩ@600VDC
Lead Lengths
300mm(12")
Operating Temp.
-40°C to 80°C
Protection
IP51
Mechanical vibratio
MIL-SID-810E
Humidity
10% to 70% RH
Materials
Lead Free,RoHS compliant
CE Certified
YES
| Part # | Total Rings | Current |
| --- | --- | --- |
| MT003-S06 | 6 | Signal or 2A /ring |
Request 3D Model(*.STEP) Files
X
In our 3D database, over 20000 3D -Models are available, due to protection of commercial confidentiality,
Please write your company name and email.
3D Model files will be sent to your emails automatically in 5 minutes.
QUESTIONS?
Our experts are here for you!