Temperatures, speeds, pressures, and lubricants greatly influence seal life and efficiency. Consequently, the expertise invested in the production of seals brings out the difference between low, sufficient, and exceptional efficiency.

With our established abilities in slip ring design, materials, testing, and production, we provide essential help to support engineering firms globally to make the right decisions throughout the seal manufacturing cycle.
Such abilities have enabled MOFLON to produce slip rings, which are improving efficiency in all sorts of things from today's industrial robots to the most productive wind turbines. Whether you require an entirely new slip ring or a modification of the existing ones, factory sealing solutions from MOFLON will enable you to improve your equipment significantly.
It goes without questioning that reliable sealing starts with the selection of appropriate seal material.
Factory automation seals are exposed to a variety of odd working conditions like high temperatures, speed, pressure, and corrosive chemical reagents. To withstand these and other extreme conditions, it is essential to pick the most appropriate slip ring materials. Various aspects influence the material selection, comprising of exposure to fluids, temperature, and rigorous regulatory specifications dominant in the food and beverage industries or oil and gas sector.
Whichever your needs are, MOFLON can undoubtedly meet them with our wide variety of rubbers, thermoplastic elastomers, and several other materials like high-efficiency plastics. Most seal manufacturers always design products for super performance uses based on these primary materials:
Rubbers are highly flexible and are both stretchable and deflectable when little force is applied. Most rubber seals offer exceptional resistance to oils and greases.
These materials have similar benefits to those of rubber and plastic materials. MOFLON's high-efficiency polyurethanes (TPU) incorporate super abrasion and wear resistance, minimal compression standards and tear capacity, and exceptional pressure resistance.
Designed to withstand harsh conditions, PTFE and its compounds can put up with corrosive fluids, extreme temperatures and pressures. Because of their tremendously minimal coefficients of friction, these PTFE seals can also stand dry operating conditions.
From industrial plastics to high-efficiency plastics, like PEEK, MOFLON's diversity of speciality plastic seals can tolerate odd temperatures, chemical and mechanical property standards.
Our in-house simulation equipment, MOFLON simulator for slip rings and rotary joints, can be applied to study the non-linear performance of different seal materials, which assists in forecasting sealing efficiency under different conditions.
MOFLON engineers also use non-linear Finite Elements Analysis (FEA) to put on any running condition by applying various seal geometries to detect the crucial areas in the design process.
Designing optimized slip rings demand a refined testing and analytical approach; hence MOFLON hires an international network of devoted testing specialists. Each year, these professionals carry out numerous tests, not forgetting durability, efficiency, contaminant elimination, friction resistance, and chemical compatibility.
MOFLON tests seals in stationary and rotating test rigs capable of igniting odd running conditions, like high temperatures and pressures. We continuously observe dynamic tests to validate aspects like under-lip temperatures, friction resistance, oil leak, extrusion resistance, and several other parameters.
Outcomes form the numerous seal tests carried out annually offer valuable knowledge coupled with an in-depth empirical understanding for failure experiments and benchmarks, eventually leading to a steady flow of new seals and innovative slip rings.
With proficiencies in compression, injection, and transmission creation technologies, MOFLON utilizes the most suitable option for your needs. Additionally, with the machined slip ring model, we also offer machined products very promptly, minus tooling expenses.
Chapter 2
Material Handling and Industrial Robotics
In today's factory setup, robots and material handling equipment adaptably supply and incorporate physical movements among disseminated, automatic manufacturing industries. Robots and material handling machines offer two essential and exceptional abilities into manufacturing processes: (a) dynamic and diverse material movements, and (b) flexible interactions between manufacturing processes and their surroundings.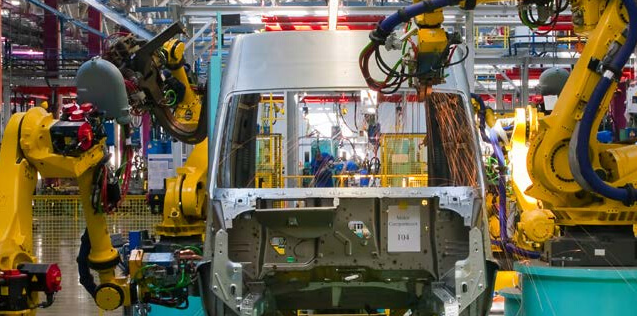 The first ability is grounded on the reprogram-ability and aptitude of cutting-edge material handling tools and robots. Thus, the material movements are variable rather than static. On the other hand, since clients, rivals, and suppliers presume the possibility of such a unified and flexible production process, the second ability is established.
Material handling robots can systematize some of the most tiresome, boring, and insecure operations in manufacturing and is one of the best mechanisms to integrate automation. These types of robots improve the performance of your manufacturing process and increase consumer contentment by offering quality goods in a timely routine.
The word material handling comprises a wide range of product flows within a factory. Component selection and conveying, palletizing, packaging and loading are a few examples of processes that employ material handling.
When selecting material handling robots for your factory use, you must take into consideration the payload and speed specifications, end-of-arm devices or grippers required, factory layout and floor-space, the kind of material to be handled, and any possible manufacturing issue.
a)Factory Automation Industry Facts
The sector has been receiving a poor taste since it is majorly linked with the notion of robots swiping human production jobs. Though this is true to some extent, below are some points you did not know concerning factory automation.
1.Factory automations protects workers from hazardous working conditions.
2.Workers are no longer compelled to work for extra hours, up from a 70-hour week to a typical 40-hour work week.
3.Industrial automation improves manufacturing rates, and at the same time, minimizes operational expenses.
4.Factory automation ensures more effective utilization of industrial raw materials, ensuing in proper waste management.
5.Automated equipment manufacture superior and more reliable quality goods.
6.Automaton hands manufacturers more control of the manufacturing process.
7.Factory automated machines are controlled by pre-installed, instructional, and valid databases.
8.Minimal routine and physical inspections are required in factory automated systems.
9.Factory automation implies that the duration between the initiation of a process and its final product is shortened.
Slip Rings for Material Handling Robotics' Transfer of Power and Signals
Robots are produced according to the specifications of the respective manufacturing process. This often calls for material handling grippers that facilitate the movement of industrial products to their predefined locations.
MOFLON slip rings are designed to transfer power and electrical signals of the drives and to link the sensors in all parts of the robot arm. Effective spinning rates, maintenance-free models, high-temperature capacities, and exceedingly compressed dimensions describe our slip rings.
b)Meet Your MOFLON Rotary Joints
The diversity of robot use cases is currently high in many fields, and rotary joints/slip rings play exceptional roles, apart from the basic conduction of power and signals.
Sealing solutions for drain robots are often designed with particular consideration for the transfer of HD video data and partially produced as fusion electrical and COAX rotary unions. Sealing products for maritime uses are coated with water resistant covers to offer super protection abilities.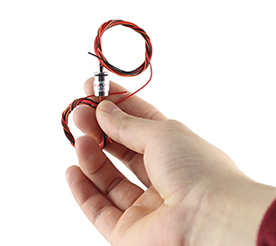 Small slip rings with diameters of 6 millimetres ensure steady conduction even in space-sensitive cases. Seals for welding robots are meant to be used in higher currents to transmit all power aspects needed for the welding procedure.
Rotary joints with hollow shafts offer adequate space for the passing of ropes, cables, and tubes for media. Based on the specifications of the robots, an extensive range of prerequisite outlines can also be integrated into hybrid seals.
c)Handling the Future
Material handling is considered one of the numerous bright spots for the robotics sector. MOFLON sees the evolution of material handling uses as a "sharp upward trend, not a curve. Grounded on exceptional speeds, designing, and software advancements, material handling robots have developed dramatically in the last ten years. MOFLON projects that the sharp upward trend will last.
As the automotive sector transformed, many skilled workers, who acknowledge the power of robotics were circulated into various areas. These experts recognize the potential of robotics and have ignited a desire for material handling in other sectors. MOFLON acknowledges material handling robotics as an expanding field.
Irrespective of your matchless specifications, MOFLON engineers will offer you the discernment and experience needed to resolve every weak point in material handling robotics, with considerate and trustworthy solutions. MOFLON Technologies only produce products considered to eliminate maintenance expenses, enhance performance, and increase safety in factory automation robots.
Chapter 3
Rotary Table and Work-holding Systems
Stable supply and flow regulation of hydraulics and pneumatics are essential for clamping activities. MOFLON provides high-precision slip rings for reliable movement and rotary timing sealing products for regulating flow to attain precise fluid, performance pressure, speed, and space parameters of distinctive work-holding uses.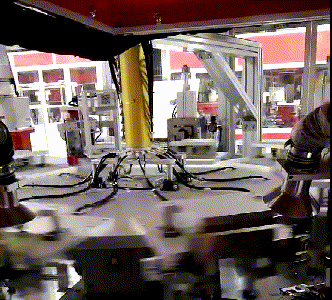 Rotary tables are also known as swivel tables. They are the working platform of some devices which can be set at any angle while maintaining a static point. Rotary tables are typical in surveillance and measure & regulation fields, and they require spinning electrical transmitters- slip rings to function.
As an electrical component of 3600 moving transmissions, MOFLON slip rings comprise of a wide range of use cases for the swivel table. Our sealing solutions can transfer power and signals, like USB, Ethernet, sensor & angle signals, and even optical, electrical signals.
Swivel table slip ring contains several circuits, almost 285, to serve rotary tables of various dimensions. This aspect is appropriate for index tables that call for high-speed measures. Besides, its top spinning precision assists the double and multiple-axis universal sensor equipment to maintain a suitable angle, and smooth flow for various loads.
Additionally, MOFLON rotary unions for swivel tables can withstand vibration, shock, dust, and fluids, adjusting to different operating conditions of swivel tables. For instance, they work in swivel platforms for length duration surveillance systems. Besides, it also integrates centrifuge with platforms that should back vibration activities in super-speed motions.
Wide operational temperature also prolongs its functioning series. Concerning video monitors as cameras, MOFLON slip rings can be operating at any moment in different locations. Excellent protection standards, coupled with durability, make our slip rings run for extensive periods without inner components updating.
How Rotary Tables Work
For swivel tables with parallel bores, plugs are made, and the middle part bored and the top centre sunk. The plug's primary radius and its middle bored impression must be made minus detaching the portion from the lathe to achieve concentricity. This brings more accuracy to the system. For machining to occur, the workpiece must be positioned relative to the cutter.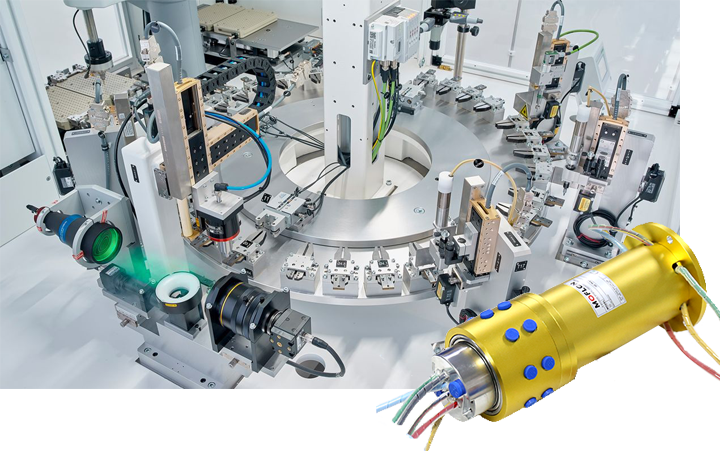 Most rotary work-holding tables employ double-functional hydraulics, which is suited for automated weight loading and unloading through robots. Swivel tables are preferably suitable for three-axis perpendicular machining centres and have three-phased access to the portion to be worked on.
To achieve a secure working load, optimum work standards and reasonable out-of-balance weight must be considered to prevent over-stressing the device. In instances where work is moved during operation, the return route for welding power ought to be established.
Electric motors or draw-work engines power swivel tables. During tube tripping, the swivel tables back the drill string if the load remains unsuspended from the hook. During such instances, the rotary tables bear the whole load of the drill string.
Swivel tables rest on strengthened beams of the rig surface, which transmit the weight to the rig sub-unit. They contain hardened steel bases which function as the basis to offer the strength and stability to the machine. The turntable moves along the bottom with the help of a hefty ball bearing.
On the other hand, the ring gear if run by a pinion shaft containing roller bearings and slip rings. A removable sprocket is linked to the pinion shafts of mechanical drives or coupling devices when run by electric engines.
Swivel tables are fitted with locking tools, which are useful during composting or erupting the drill bit. They are also employed to tighten the drill cords during directional boring of motors. However, these locks should be avoided during pipe composition or eruption in round trips.
A blend of torque and bending period can cause impulsive tube failure. The turntables contain openings at their centres, which house the master bushings.
Chapter 4
Conclusion
MOFLON Technologies is the leading slip ring designer and manufacturer worldwide. Continuous investment certifies that we maintain and advance production effectiveness, achieving our objective of providing our clients with the most cost-effective slip rings and rotary unions.
Regarding all-encompassing product expertise and product design abilities, MOFLON Technologies is your number one choice for reliable and durable sealing solutions in fields such as Automotive, Agriculture, Aerospace, Therapeutic, and Factory Automation industries.
We have mastered the manufacturing of both standard and custom-made slip rings, using ultra-modern machinery and the latest innovative techniques. We offer our clients safe and timely deliveries while upholding the best quality standards.
Make your orders with us today and discover the value of your money! Remember to leave your comments in the comment section below.