MT Series
Bore Size 3mm~800mm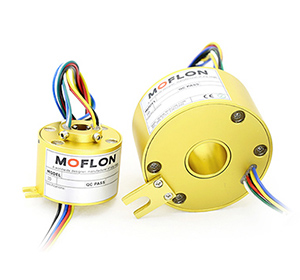 • Moflon focused on all kinds of through bore slip rings and through hole slip rings for over 30 years
• Designed for through bore hydraulic or pneumatic rotating shaft installation.
• Uses fiber brush technology which offers several advantages over conventional slip ring contacts including multiple points of contact per brush bundle
• Bore size from 3 to 800mm, Standard, off-the-shelf
• Gold plated ring and Gold alloy brush
• Through bore slip ring can support power + signals transmitting
What is through bore slip rings(through hole slip rings)?
Slip rings are electromechanical devices that permit the transmission of power and/or electrical signals between stationary and rotating structures or equipment. These devices are used in electromechanical systems that require continuous rotation while transmitting power/signals and can improve performance, simplify operation, and eliminate potentially dangerous wires that might otherwise protrude from movable joints.
We usually call through bore slip rings in this way because it has a bore in the middle part. It has very wide applications, mainly installed in the equipments with a rotation axis, and the rotating joint needed to transmit signals in the fixed and unfixed structures.
Havn't find standard through bore slip ring size to fit my application?

1) View "Customization Solutios", you can find much more specialized through hole slip ring solutions.

2) Customize your dimension and Contact us : technical@moflon.com


QUESTIONS?
Our experts are here for you!
Request 3D Model(*.STEP) Files
X
In our 3D database, over 20000 3D-models are available, due to protection of commercial confidentiality,Pls write your company and email as below,
3D model files will be sent to your emails automatically in 5 minutes.