Technical Support
A Visiting from Technical Director of US MOT Company!
Date: 2016-06-15 18:46:53
On June 20th, 2015, Maret, a technical director from US MOT Company visited our company. He flew for 15 hours, but he was very satisfied with MOFLON products and MOFLON all staff. He said that we are the best. Certainly, we will always do our utmost to satisfy our customer.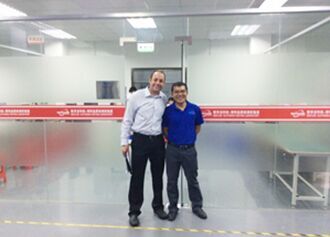 Reference Parts# of Slip Rings as below:
MFO109 series Fiber Optic Rotary Joints(optional+Electrical Slip Rings)
About Moflon - Compliance of Certifications
MFS038 series Water-proof Slip Rings
MT180298 series Through Bore Slip Ring
MT80158 series Through Bore Slip Ring
Strain Gauges Slip Rings,low voltage slip rings
Others:
Pri:
MOFLON Basketball Competition with Perfect Ending!
Next
Israel Clients Came to MOFLON Company Performing Field Research!
Others:
Pneumatic hydraulic electrical slip ring: design and considerations
Through bore slip rings explained.
Types of slip rings
What is the Function of Moog Slip Ring in the Advanced Electrical Machines?
Choosing Slip Rings that Last for Wind turbines
How Does the Optical Slip Ring Function in the Radar Soldiers?
QUESTIONS?
Our experts are here for you!