';
Technical Support
Israel Clients Came to MOFLON Company Performing Field Research!
Date: 2016-06-15 18:57:20
On July 20th, 2015, two clients from Israel came to Shenzhen, China for their visit on MOFLON Company. With practically observing and analyzing, the clients affirmed that MOFLON Company has the strong production capacity and quality control capacity, so they signed contracts for 500,000 dollars products on that day.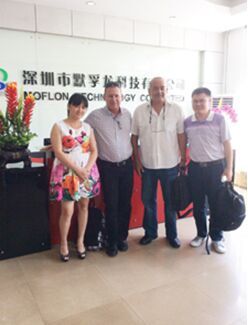 Reference Parts# of Slip Rings as below:
About Moflon - Compliance of Certifications
MFS038 series Water-proof Slip Rings
MT180298 series Through Bore Slip Ring
MT80158 series Through Bore Slip Ring
Strain Gauges Slip Rings,low voltage slip rings
Technical Support - FAQ slip rings
Others:
Pri:
A Visiting from Technical Director of US MOT Company!
Next
United States Clients Came to MOFLON Performing Field Research!
Others:
A Discussion on Separate Slip Rings
A Comparison of Rotating Electrical Connectors and Electrical Slip Ring
Importance of Slip Rings in Investment Intensive Production Plants
How Wireless Slip Rings Work Without Any Physical Connection?
A Discussion on Contact System and Slip Ring Transmitter
Importance of Through Bore Slip Ring Over Other Forms of Slip Ring
QUESTIONS?
Our experts are here for you!