';
MGP6 Series
6 Passages General Purpose Rotary Unions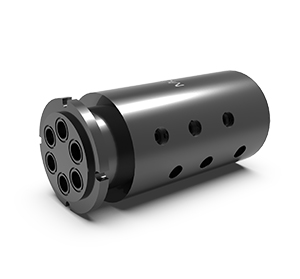 6 Passage General Purpose Rotary Unions.
MGP6 general purpose rotary unions could connect with M5、G1/8、G1/4、G3/8、G1/2 ,also can combine with power wire, signal wire ,Ethernet, USB, Industrial BUS, control line, solenoid valve, sense line, etc. It's Standard Flange installation, hollow shaft can be customized as well.
Media Types: Air/Gas,Vacuum,Chemical,DI/Tap Water,Oil,etc.
Standard series PART# Explanation

Product Quality Level Table
Products Level Code
Max speed
Working Life
Sealing Element
VC
100RPM
6Million Revs.
Domestic famous brand seals
VD
300RPM
20Million Revs.
Imported seals
Specification
Mechanical data
Rotary Union Specifications
Parameter
Value
Parameter
Value
Working life
See Prod Level Table
Passages
6 Passages
Rated speed
See Prod Level Table
Max Pressure
50MPa (customizable high pressure),vacuum 30HG
Operating temp
-30℃~80℃
Media Type
Air,vacuum, oil,water,hot water,coolant,steam,etc
Working humidity
0~85% RH
Torque
Depends on connection size.
Seals
See Prod Level Table
Shell material
Aluminum alloy/Steel
Protection Grade
IP51
More product references in the same series:
Request 3D Model(*.STEP) Files
X
In our 3D database, over 20000 3D -Models are available, due to protection of commercial confidentiality,
Please write your company name and email.
3D Model files will be sent to your emails automatically in 5 minutes.
QUESTIONS?
Our experts are here for you!