';
GT Series
Supper Working Life, High Precision And Stability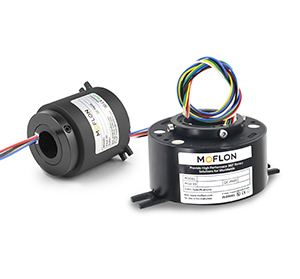 GT series is Moflon latest products which have improved and upgraded the structure of MT series through hole slip rings, greatly improving the stability and precision of the slip ring structure.
• Bore size from 7 to 800mm, Standard, off-the-shelf
• Gold plated ring and Gold alloy brush
• Designed for through bore hydraulic or pneumatic rotating shaft installation.
• Through bore slip ring can support power + signals transmitting
Havn't found standard through bore slip ring size to fit my application?

1) View "Customization Solutios", you can find much more specialized through hole slip ring solutions.

2) Customize your dimension and Contact us : technical@moflon.com


QUESTIONS?
Our experts are here for you!