';
MT0724 Series
Bore size 7mm, OD 24.8mm, 2~12 rings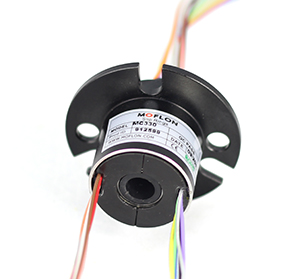 MT0724 could support 3 wire slip ring ~ 12 wire slip ring with bore size 7mm, OD 24.8mm, miniature through bore slip ring.
MT0724 provides an economical, readily available solution when a compact through-bore configuration is required. provides a 7mm through-bore for routing of hydraulic or pneumatic lines, and a compact 24.8mm outside diameter and a very short overall length for minimal space applications.
Standard series PART# Explanation

Product Quality Level Table
Products Level Code
Max speed
Working Life
Contact Material
VC
250RPM
20Million Revs.
Precious Metal
VD
600RPM
60Million Revs.
Precious Metal
Specification
Mechanical data
Electrical data
Parameter
Value
Parameter
Value
Working Life
See Prod Quality Level
Power
Signal
Rotating Speed
See Prod Quality Level
Rated Voltage
0~240VAC/VDC
0~240VAC/VDC
Working Temp.
-30℃~80℃
Insulation Res
≥500MΩ/500VDC
≥500MΩ/500VDC
Operating Humidity
0~85% RH
Lead Wires
AWG28#Teflon
AWG28#Teflon
Contact Material
See Prod Quality Level
Lead Length
Standard 300mm
Housing Material
Aluminium Alloy
Dielectric Strength
500VAC@50Hz,60s
Torque
0.05N.m;+0.02N.m/6ring
Res Noise
<0.01Ω
Protection grade
IP51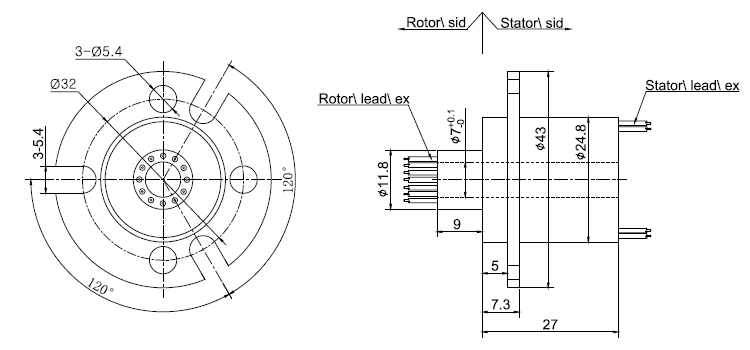 MT0724 Series Parts# List
Part#
Signal/2A
Length(mm)
MT0724-S02
2
27
MT0724-S04
4
27
MT0724-S06
6
27
MT0724-S08
8
27
MT0724-S10
10
27
MT0724-S12
12
27

For a detailed outline drawing of a specific 3 wire slip ring ~ 12 wire slip ring, or to request a quotation, please contact your local sales representative
(see our website http://www.moflon.com/contact.html) or send an email to sales@moflon.com


More product references in the same series:
Request 3D Model(*.STEP) Files
X
In our 3D database, over 20000 3D -Models are available, due to protection of commercial confidentiality,
Please write your company name and email.
3D Model files will be sent to your emails automatically in 5 minutes.
QUESTIONS?
Our experts are here for you!