';
MSDI224 Series
1 Channel HD-SDI/1080P + 1~24 Circuits Power/Signal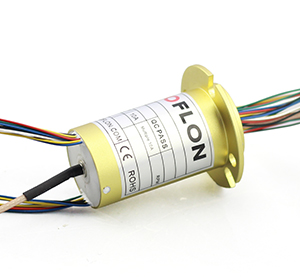 MSDI212 HD-SDI slip ring supports 1 channel HD-SDI signal (coaxial-cable) + 1~24 circuit power/signal (2A). specially designed to transmitting HD-SDI/1080P/4K video signal.can support max frequency 3GHz, also can combine with 1~24 circuits power/signal.
Deals with brushes for hard gold plating, which guarantees the low resistance fluctuation and long working life, etc.
Typical application: HD security monitor, photographic camera, HD camera.
Specification
RF Rotary Joint Specifications
Parameter
Value
Parameter
Value
Frquency
DC-3.0GHz
Insertion Loss
0.65dB/1GHz Max
Insertion loss typical
+/-0.05dB
Return loss
-18 dB/1GHz Max
In put out put
RG-179/U
Max speed
50RPM
Volt standing wave ratio
VSWR≤1.3
wave ratio typical
+/-0.05
Working Life
200 million Revs
Connector Types
BNC/F
Impedance
75 ohms
Rating Current
DC 1A Max
Electrical data
Parameter
Value
Power
Signal
Rated Voltage
0~440VAC/VDC
0~440VAC/VDC
Insulation Res
≥1000MΩ/500VDC
≥1000MΩ/500VDC
Lead Wires
AWG28#Teflon
AWG28#Teflon
Lead Length
Standard 300mm
Dielectric Strength
500VAC@50Hz,60s
Res Noise
<0.01Ω
Mechanical data
Parameter
Value
Working Life
10Million Revs.
Rotating Speed
250RPM
Working Temp.
-30℃~80℃
Operating Humidity
0~85% RH
Contact Material
Gold-Gold
Housing Material
Aluminium Alloy
Torque
0.05N.m;+0.01N.m/6ring
Protection grade
IP51
More product references in the same series:
Request 3D Model(*.STEP) Files
X
In our 3D database, over 20000 3D -Models are available, due to protection of commercial confidentiality,
Please write your company name and email.
3D Model files will be sent to your emails automatically in 5 minutes.
QUESTIONS?
Our experts are here for you!