MSE2050 Series
Bore size 50mm, Support 1~4 servo motors + 2~72 circuits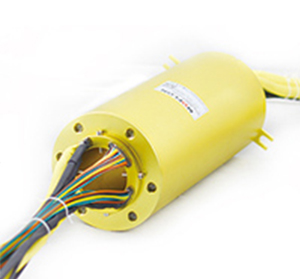 Special servo slip ring designed for Yaskawa, Panasonic, Mitsubishi, Siemens servo motor with stable and reliable performance.
Moflon has 15 years experience without any alarm or stop.
It can combine with any power,switching signl or bus signal, For example:Profibus,Profinet...
It can also combined with rotary joint.
Inner wiring and shield structure and totally prevent the mistake of encoder error.
Gold-gold contact,high performance,years of experience for Simens/Heidenhain control system.
Standard series PART# Explanation

Product Quality Level Table
Products Level Code
Max spped
Working Life
Contact Material
VC
150RPM
15Million Revs.
Precious Metal
VD
1000RPM
60Million Revs.
Precious Metal
Specification
Mechanical data
Electrical data
Parameter
Value
Parameter
Value
Working Life
See Prod Quality Level
Power
Signal
Rotating Speed
See Prod Quality Level
Rated Voltage
0~440VAC/VDC
0~440VAC/VDC
Working Temp.
-30℃~80℃
Insulation Res
≥1000MΩ/500VDC
≥1000MΩ/500VDC
Operating Humidity
0~85% RH
Lead Wires
Power wire AWG#16
6 cores shielded cable
Contact Material
See Prod Quality Level
Lead Length
Standard 300mm
Housing Material
Aluminium Alloy
Dielectric Strength
500VAC@50Hz,60s
Torque
0.1N.m;+0.03/6ring
Res Noise
<0.01Ω
Protection grade
IP51
MSE2050 series-options for servo motor encoder slip rings
Part#
power cable
(4 cores,10A each core)
encoder conrtol cable
(6 cores with shield)
other signals 5A
Length(mm)
MSE2050-01
1
1
0
74
MSE2050-01-S06
1
1
6
96.8
MSE2050-01-S12
1
1
12
119.6
MSE2050-02
2
2
0
119.6
MSE2050-02-S06
2
2
6
142.4
MSE2050-02-S12
2
2
12
165.2
MSE2050-03
3
3
0
142.4
MSE2050-03-S06
3
3
6
165.2
MSE2050-03-S12
3
3
12
188
MSE2050-04
4
4
0
188
MSE2050-04-S06
4
4
6
210.8
MSE2050-04-S12
4
4
12
233.6

If no standard part fit your requirements,please contact sales for custom slip ring,the rings can be increase or decreased


QUESTIONS?
Our experts are here for you!