';
MFO102 Series
1 Channel Fiber Optic + 1~30 Circuits Power/Signal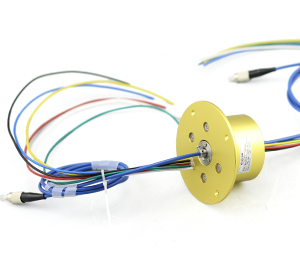 MFO102 series is hybrid slip rings, It can combine 1 channel optic fiber with electrical 1~30 circuits power/signal(2A),
Hybrid FORJs combine an electrical slip ring with a fiber optic rotary joint, allowing electrical, power and optical signal transfer through a single rotational joint. While fiber optics are becoming the medium of choice for signals due to large bandwidth, immunity to EMI and high reliability, it is acknowledged that rotary interfaces must also carry electrical power.
Standard series PART# Explanation


Specification
Items
Type
Single-mode
Multiple-mode
WaveWidth(nm)
±50
Max insert Loss,23℃(dB)
1.2
0.7
Insert Loss Ripple(dB)
0.6
0.4
Return Loss(dB)
≥55(No connector)
≥40(No connector)
Max Power(W)
0.5
Weight(g)
50
Max speed(rpm)
1000
Working Life
>500 million revs
Working Temp.(℃)
-45~85
Storage Temperature(℃)
-50~85
Mechanical data
Electrical data
Parameter
Value
Parameter
Value
Working Life
20Million Revs.
Power
Signal
Rotating Speed
250RPM
Rated Voltage
0~240VAC/VDC
0~240VAC/VDC
Working Temp.
-30℃~80℃
Insulation Res
≥1000MΩ/500VDC
≥1000MΩ/500VDC
Operating Humidity
0~85% RH
Lead Wires
AWG22#Teflon
AWG22#Teflon
Contact Material
Gold-Gold
Lead Length
Standard 300mm
Housing Material
Aluminium Alloy
Dielectric Strength
500VAC@50Hz,60s
Torque
0.1N.m;+0.03/6ring
Res Noise
<0.01Ω
Protection grade
IP51
More product references in the same series:
Request 3D Model(*.STEP) Files
X
In our 3D database, over 20000 3D -Models are available, due to protection of commercial confidentiality,
Please write your company name and email.
3D Model files will be sent to your emails automatically in 5 minutes.
QUESTIONS?
Our experts are here for you!